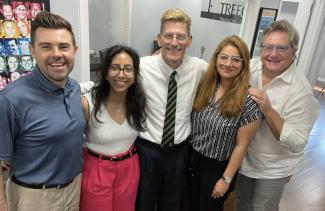 The Benefits of Working With an LGBTQ+ Advisor
Many individuals view financial planning as an extremely personal and private matter. Sharing sensitive details about your financial assets (or lack thereof), earnings, attitudes about money, life goals, dreams, and how you'll leave your assets to loved ones with a professional you barely know may make many people uncomfortable or even embarrassed.
For LGBT individuals and couples, the discomfort and unease of the experience is often compounded. They may be reticent to disclose their sexual orientation or share the full nature of their family or relationships to their advisor. This is especially prevalent amongst older lesbians and gay men who may have struggled with "coming out" late in life after "living in the closet" for years.
The financial industry has a history of being conservative, traditional, and sometimes unwelcoming towards minorities and women. Many are turned off altogether by the idea of investing due to these perceptions, as only 26% of women invest, despite making up 50.8% of the US population.
As much as some might like to think that personal values and biases do not interfere in business relationships such as financial planning, healthcare, and housing—they do—and can result in unfortunate misunderstandings, needs not being fully addressed, and clients not being treated with dignity and respect.
Put Your Money Where Your Values Are
An LGBTQ-identified financial advisor can sympathize with gay and lesbian individuals' real-world apprehension and mistrust toward the financial planning industry. He/she/they may have had firsthand experience in confronting conservative biases or dismissive attitudes through their personal lives, interactions with colleagues, or while advocating on behalf of their clients with attorneys, insurance companies, or healthcare professionals.
More than likely, an LGBTQ-oriented advisor will have proven experience in:
Helping other gay and lesbian individuals, couples, and families successfully plan for long-term financial security.
Partnering with allied resources (attorneys, aging experts, caregivers, etc.) who provide welcoming and inclusive services.
Advocating in your best interest to overcome difficult financial planning or healthcare challenges.
Having similar values to understand your needs and concerns.
Empowering LGBTQ Financial Savvy
At the core of my work with Treece Financial, I proudly embrace my LGBTQ identity and the advocacy-oriented financial advice and service I have provided to South Florida's gay and lesbian community for 30 years.
Besides myself, I have built a diverse team of professionals to serve alongside me who are committed to ensuring that every client that walks into our office feels welcomed, valued, and at ease.
We know the hard work you've put in to get to this stage of your life. We want the financial decisions you make with us to empower you even further to continue doing so! From the moment of our first meeting, we take the time to learn what really matters most to you so that your investment portfolio is a natural expression of your core values and beliefs.
Beyond developing a financial plan and managing your investments, my team and I are here to look after the health of your entire financial well-being with a holistic range of related products and services—and we have the success stories to prove it.
Advocacy. Action. Answers.
I have long-term relationships with LGBTQ-identified and -allied referral partners and extensive experience with advocating for my LGBTQ clients in difficult family estate situations, senior housing or caregiving discrimination, and Social Security survivor benefits for same-sex couples.
At the forefront of my work is navigating the sometimes complex financial and healthcare needs of LGBTQ individuals as they age, oftentimes alone without a strong support network. At a time when many are vulnerable due to changes in health or living situations, having a trusted advocate on their side makes a life-changing difference.
_ _ _
Learn more about how Treece Financial serves the financial planning needs of LGBTQ+ individuals. We are here and ready to help you invest with pride to live out loud and in control.
Schedule a complimentary consultation.
_ _ _
RELATED RESOURCES:
Video:The Benefits of Working with an LGBTQ+ Financial Advisor
Webinar: 5 Things Every LGBTQ+ Individual Should Do Right Now