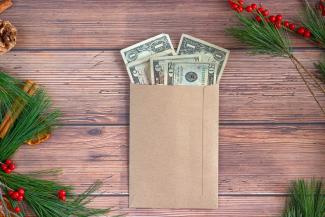 Year-End Charitable Due Diligence: Things to Consider
If you're like most Americans, you make the majority of your donations to charitable organizations in November and December. As a matter of fact, 30% of annual giving occurs in December.
As you get into the holiday spirit of year-end charitable giving, be sure to first perform some due diligence—especially if you're giving to an organization for the first time.
How should a philanthropist go about conducting due diligence?
At its core, due diligence involves gathering comprehensive data and insight. To ensure you're effectiveness when it comes to due diligence, use various methods and resources. Using Varouse resources can be utilized to gain a thorough understanding of potential grantees, such as:
Desk Research: Exploring available information about the organization online through publications, newsletters, official websites, and the legitimacy of the website through the IRS, the BBB Wise Giving Alliance, or any other reputable websites. Independent perspectives from sources like Candid, Charity Watch, or Charity Navigator can provide valuable insights into many nonprofits.
 
Website Exploration: Visiting an organization's website allows for personal interaction with a firsthand impression of what daily operations are like, who is part of the staff, and where their stories come from. 
 
Meeting with Representatives: Building a comprehensive relationship with the leaders and staff involved embellishes a better understanding of the ongoing communications involved within the organization. Fosters for meaningful interactions can ensure open and constructive communication gaining a mutual benefit from each other. 
 
Consulting with other philanthropists involved: If you know other donors who are working towards a similar goal or charities focused on related issues in the areas, reach out to them as a resource or support. Gaining knowledge from another philanthropist can gain insight benefiting your decision-making process. 
 
Volunteering: Getting a firsthand perspective through volunteering can be a very humbling experience. Providing insight into their day-to-day processes, programs involved, and their leadership. It is a more intimate understanding of the nonprofit. 
Items to know before giving your due diligence to non-profit organizations from a financial stance:
501(c)(3) status. If the organization you are interested in giving to currently has or has applied for this designation, you are eligible to take a deduction for that contribution. There are other types of organizations that accept contributions and allow you to take a deduction, but they vary, and sometimes the deduction allowed is as a business deduction, not a charitable contribution. The bottom line is if the organization you're giving to does not have 501(c)(3) status, you may want to research the organization further. In any case, you should check with the IRS prior to taking any tax deduction.
 
Always get a receipt; particularly if your donation is more than $250, as that is the IRS cutoff for providing proof of a donation. While you can provide a canceled check as proof, it may be more difficult to provide that proof when giving online. The organization should always provide a receipt for any donation $250 or above.
 
Make sure they are a legitimate organization. This is particularly important when giving to an organization for the first time. Quite frankly, there are a ton of organizations out there, all trying to obtain your hard-earned dollars. Take a few moments to be sure that the ones you give to are actually providing the work or services they claim prior to gifting them with a donation.
 
Is the organization transparent? Do you know how they use the donations that they receive? Is there an adequate amount of money going directly towards programs? However, on the flip side, remember that many organizations wouldn't exist without staff members providing their expertise, running their programs, and maintaining their finances. Overhead is a necessary requirement for any organization. Just make sure that that's not the only thing the money is being used for. For more detailed information on any nonprofit that you're currently supporting or considering supporting, visit GuideStar.org or Give.org which provide financial details on charitable organizations including 990s.
 
Be sure that your donation is in the hands of the organization by December 31st if you plan on taking a tax deduction for your gift or you'll have to wait until next year to take that deduction.
 
You have options to give in other ways, such as stocks and bonds, or even a charitable bequest to the organization. Be sure to check with the organization in question prior to make sure that they are equipped to handle your donation properly.
By spending a little bit of time doing some research, you can help to ensure that your donation is used in the spirit in which its given.
Need guidance on how to maximize your year-end giving?
Team Treece is here to help! Schedule a quick consult with us.
_ _ _
READ NEXT:
Cultivate a Positive Money Mindset to Get What You Want
Boosting Black-Owned Businesses
_ _ _
*This content is developed from sources believed to be providing accurate information. The information provided is not written or intended as tax or legal advice and may not be relied on for purposes of avoiding any Federal tax penalties. Individuals are encouraged to seek advice from their own tax or legal counsel. Individuals involved in the estate planning process should work with an estate planning team, including their own personal legal or tax counsel. Neither the information presented nor any opinion expressed constitutes a representation by us of a specific investment or the purchase or sale of any securities. Asset allocation and diversification do not ensure a profit or protect against loss in declining markets. This material was developed and produced by Advisor Websites to provide information on a topic that may be of interest. Copyright 2023 Advisor Websites.