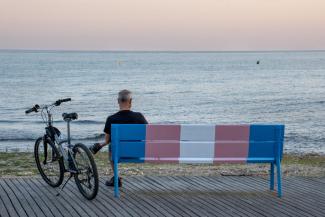 Solo "Gay-ging" Who Will Take Care of Me As I Age?
With an estimated 3 million LGBTQ+ adults over age 50 (with the number expected to grow to around 7 million by 2030) living in the US, isolation and discrimination is on the rise for many single, aging LGBTQ+ folk.
Within gay male cultures, youth is emphasized more which often disregards aging concerns, leaving some older community members isolated, marginalized, and suffering in silence.
LGBTQ+ older people, as well as those living with HIV, face increased rates of social isolation, higher rates of poverty, and a lack of access to culturally competent services and supports compared to their straight, cisgender, and HIV negative counterparts. It is a sad truth that thousands of our LGBTQ+ elders are dying earlier than their straight counterparts in isolation and fear.
As a financial advisor specializing in retirement planning for many LGBTQ+ clients, I have been witness to the intolerance, fear of religious objection, bullying, and abuse within housing, caregiving, and healthcare settings many of them have experienced—sometimes even from members of their own family. 
As we celebrate Pride Month, now is the perfect opportunity for the entire LGBTQ+ community to advocate for the needs of the "Stonewall Generation"—those who have fought hard for decades to gain the rights and visibility we may now take for granted. Having to hide their identities and go back into the closet to survive their senior years is just not acceptable and is something the entire LGBTQ+ community and its allies need to advocate to change.
 
Aging Within the Shadow of Discrimination
Although LGBTQ+ identities, relationships, and family configurations are expanding and evolving within the younger generations, there are several demographic factors that still define this community's senior identities, including:
They are twice as likely to be single and live alone than their straight counterparts, with gay men being less connected compared to lesbians within every relationship type (LGBTQ+ friends to straight friends, from partners to neighbors).
 
More than 1 in 3 LGBTQ+ Americans faced discrimination of some kind in the past year with causing more than half of LGBTQ Americans being reported to hide a personal relationship.
 
They are four times less likely to access aging services because of a variety of reasons including feeling unsafe and/or unwelcome, having mobility limitations, difficulty accessing transportation, lower quality social activities, etc. 
 
With LGBTQ+ people of color being particularly vulnerable to poverty and other indicators of economic insecurity, hence are more likely to be concerned about discrimination, social stigma and bad health outcomes in comparison to their white counterparts.
 
Gender expansive community members strongly experience and fear discrimination, much more so than lesbian, gay, or bisexual community members.
 
More LGBTQ people (21.6%) live in poverty in comparison to their straight cisgender peers (15.7%) which translates into retirement as two out of ten LGBTQ+ retirees in the US live on less than $20,000 per year. 
 
All of these factors can be compounded by intersections of sex, race, ethnicity, and disability.
All of these factors can be compounded by intersections of sex, race, ethnicity, and disability.
 
Boomers Are Leading the Aging Revolution
Despite these overwhelming statistics, there is a strong movement in a more positive direction.
With the aging of the baby boomer generation, the older adult population will rise from 16% in 2020 to an estimated 21% in 2030, the growing "solo aging" trend is fueling transformation in how single seniors access financial, housing, and healthcare decision support.
Organizations and institutions are examining every aspect of how they interact with and provide services to aging customers. In conjunction with increased LGBT cultural competency training within many senior service and healthcare systems, the transformations in care will benefit LGBT seniors as well as the larger straight population.
 
Single Seniors Don't Have To Go It Alone
There are numerous ways for seniors to expand their community connections as well as enhance their mental and financial well-being:
Consider "right"-sizing to a senior housing community. About 48% of LGB couples experience adverse treatment when seeking senior housing leading to many folks to be interested in LGBTQ+-welcoming housing development for older adults. Several initiatives are underway right here in South Florida, including Lambda Living's 15-unit housing program in North Miami that is LGBT-focused and intergenerational for seniors and young adults and the Residences at Equality Park in Wilton Manors. Another option is the "Golden Girls Housing" trend, where single seniors connect to share a house as roommates.
 
Connect with your local LGBTQ+ Community Center for programming that may include drop-ins, peer-support or discussion groups, information and referral services, designated spaces for older adults, exercise and fitness programs, as well as classes and social activities. There are several well-established and active centers within South Florida to check out, including The Pride Center at Equality Park, SunServe, Fort Lauderdale Prime Gentlemen, Lambda Living Program for LGBT Seniors (Jewish Community Services), Unity Coalition, and Compass Community Center. Online communities are also a great way to connect, including La Vida Pride eCommunity Center.
 
Encourage community dialogue to counter ageism and build understanding between younger and older LGBT people. SAGE Table is an easy-to-implement activity that doesn't require too much effort!
 
Revisit your financial plan is key to ensure you have the most options to make the best decisions. As seniors age, insurance requirements, healthcare needs, living situations, and legal documents change. It is a good idea to meet with your financial advisor to make sure all is up-to-date and meets your current as well as future needs.
Specifically, Treece Financial Group has developed a high level of experience and capability in dealing with elder care issues, including establishing caregiving services, long-term care, working with experts in identifying assisted living facilities, assisting with the physical move to a facility, retro-fitting housing to stay at home, planning for death, and dealing with dementia and other health-related issues.
We are happy to help you be ready for whatever lies ahead in life's next chapter.
Schedule a complimentary consultation.
The views and opinions  are those of David Treece and should not be  construed as investment advice.  The views and opinions are not necessarily those of Cetera Advisors LLC.
_ _ _
Interested in participating in important academic research focused on increasing the understanding of aging in the LGBTQ+ community?
SAGE and the National Resource Center on LGBT Aging provides community members interested in research participation with a list of academic research opportunities that have been reviewed by reviewed and approved for listing by SAGE staff. Learn more
_ _ _
RELATED RESOURCES:
Video: David Treece on Florida's "Don't Say Gay" Bill: Use Your Money to Speak with Pride
Video:The Benefits of Working with an LGBTQ+ Financial Advisor
Webinar: 5 Things Every LGBTQ+ Individual Should Do Right Now