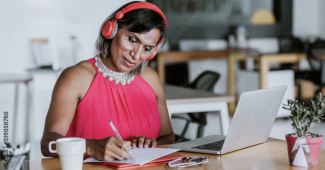 Creating a safe space at the intersection of transgender identity and financial planning
At Treece Financial Group, we proudly say transgender. And gay. And bi. And queer. And straight. And questioning. And… wait, what?
It's not enough to say, "I treat everybody the same" because everyone is NOT the same.
We deliberately speak and embrace these identities because they demonstrate inclusion and respect for a community that has long faced discrimination—a community that includes people of all ethnicities, races, religions, genders and orientations. 
"T" also means being trustworthy to transgender people
The financial services industry is oftentimes perceived as conservative and not welcoming. Out of the 372,000 personal financial advisors operating within the United States, 76.8%  are white and 69.2% are male. With the historic lack of diversity in the field (although strides are being made to increase DEI within it), it is understandable that LGBTQ+ individuals may feel disrespected, defensive, or ostracized when working with financial professionals to make plans for their financial security. 
For a financial advisor to do the best job possible, a foundation of honesty and a high comfort level needs to be developed between the client and advisor. How is this client going to be treated and respected? Are they going to be reticent to come out and talk about their family, their life situation? What if they're HIV positive? Personal discussions like this take a lot of trust. 
Without trust, the financial services industry is not fully living up to the promise of fiduciary responsibility. A fiduciary has a legal duty to provide advice and service that is in the best interests of the client. Reading between the lines, the fiduciary rule is about the importance of honoring diversity and personal dignity.
Working with an advisor who embraces and understands what the clients concerns may be goes a long way in building that trusting relationship. There are unique financial planning issues related to a person's identity and their life experiences that need to be understood, respected, and factored into the financial planning discussion.
On top of societal and political challenges, the transgender community also faces burdensome financial challenges
The financial future for some LGBTQ+ individuals—particularly transgender individuals—can be a bleak one. A 2015 report from the National Center for Transgender Equality found that the unemployment rate for transgender individuals was three times the national average, and that nearly one-third (29%) of the respondents, transgender individuals, were living in poverty. 
Recent research, organized by the Center for LGBTQ Economic Advancement & Research (CLEAR) and the Movement Advancement Project, found that many of the surveyed LGBTQ+ respondents reported far lower annual household incomes than adults nationwide.
For example, 57% of LGBTQ+ people reported a household income of less than $50,000 per year, compared to 36% of adults nationwide. Similarly, 34% of adults nationwide reported a household income of $100,000 or more, but only 13% of LGBTQ+ respondents reported this.
Transgender individuals face a number of additional financial challenges that can make it difficult to save money and achieve financial stability.
Employment discrimination: Many trans people face discrimination in the workplace, which can make it difficult to find and maintain employment. This can result in lower incomes and limited opportunities for career advancement.

Healthcare costs: Transition-related healthcare can be expensive, and many transgender people lack adequate insurance coverage. This can result in high out-of-pocket costs and medical debt.

Legal costs: Changing one's name and gender marker on legal documents can be expensive, and many transgender people cannot afford the associated fees.

Housing instability: Transgender people are more likely to experience homelessness and housing insecurity than the general population. This can make it difficult to save money and plan for the future.

Family rejection: Transgender individuals who are rejected by their families may lack the financial support that many people rely on during times of need.
It is important for policymakers, employers, and financial institutions to address these issues and provide support and resources for trans people and other LGBTQ+ individuals who are struggling financially.
Championing financial advocacy for the LGBTQ+ community 
Financial Advisor David Treece, President of Treece Financial Group, is a gay man who understands the unique financial planning challenges that transgender individuals face. He and his team are committed to helping all clients build a strong financial foundation to realize their goals. 
Healthcare costs are a major issue for transgender clients, and David is dedicated to helping his clients navigate the often complex world of health insurance and make sure that they have coverage for medical treatments. He also looks at ways to minimize out-of-pocket costs and explores options for financing medical expenses. 
Investing is another key area where he excels at assisting transgender clients. Whether just starting out or looking to grow an existing portfolio, we help clients make informed investment decisions that support long-term financial success through investments grounded in their values. 
Green screening is a method David uses to ensure that the companies in a client's portfolio meet their values or ethical standards. This involves evaluating a company's environmental, social, and governance (ESG) practices, such as carbon emissions, labor practices, and board diversity. 
At the heart of Treece Financial Group's mission is ferociously advocating for the financial security of the LGBTQ+ community. They prioritize creating an inclusive and trustworthy environment within which all clients are comfortable discussing deeply personal financial, healthcare, and insurance issues.  
Learn more about David Treece and Treece Financial Group.
Looking for a trustworthy financial advocate?
Schedule a complimentary consultation now.