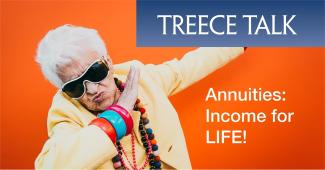 The "A-Bomb" of Investments
Income. Growth. Guaranteed.
Sometimes I say annuities and it's like the A-bomb. People are hearing negative things, and it's often false. I want you to learn about these. They can obviously be a little bit more involved because you've got a variety of different annuities. But the whole point of the annuity is guarantees, it could be guaranteed growth, guaranteed lifetime income. Generally speaking, if anybody is talking about an annuity, they're talking about guarantees, and most people like guarantees, at least in retirement,. It makes other investing with the risk a lot more comfortable.
Annuities Offer Many Ways to Secure Your Financial Future
An annuity may be the best way for you to get long-term care insurance that's taking over the market right now. Traditional long-term-care insurance is very expensive and hard to get. The rates keep going up so you have to pay more And you may never use it. And so it's all money that you've spent for nothing. It has no cash value, you can get the same long term care coverage in an annuity, and there are no bills, no rate increases, it's just repositioning an asset.
Another use of an annuity is to postpone required minimum distributions. This is another tax break, it's limited, but you can put in $130,000 or 25% of your retirement assets, whichever is less into what's called a QLAC, a qualified longevity annuity contract. And that means you do not have to take any RMDs until as late as age 85. If you want, there's some flexibility, but there are so many different uses of these annuities out there to postpone the required minimum distribution to get long term care insurance to get guarantees.
Take a Fresh Look at Annuities
So anybody who's talking about an annuity or makes it a derogatory statement does not know what they're talking about. Don't listen to it. This is basically a pension substitute. When you retire, you've got your 401k plan, but how do you know to make it last so that you don't run out of money? While you may have now an annuity option, where a certain portion of it you can tell your employer I choose that I want guaranteed income for the rest of my life. It can have spousal benefits or a death benefit too. So don't listen to so-called common wisdom or just negativity about annuities. It could be something you should be looking at what's in your best interest.
_ _ _
Investments in securities do not offer a fix rate of return. Principal, yield and/or share price will fluctuate with changes in market conditions and, when sold or redeemed, you may receive more or less than originally invested. No system or financial planning strategy can guarantee future results.
The guarantee of the annuity is backed by the claims paying ability of the issuing insurance company
Investors should consider the investment objectives, risks and charges and expenses of the variable annuity carefully before investing. An investment in a variable annuity involves investment risk, including possible loss of principal. Variable annuities are designed for longterm investing. The contract, when redeemed, may be worth more or less than the total amount invested. Variable annuities are subject to insurance-related charges including mortality and expense charges, administrative fees, and the expenses associated with the underlying subaccounts.
The prospectus contains this and other information about the variable annuity. Contact David Treece at 10800 Biscayne Boulevard, Suite 725, Miami, FL 33161 or 305-751-8855 to obtain a prospectus, which should be read carefully before investing or sending money.