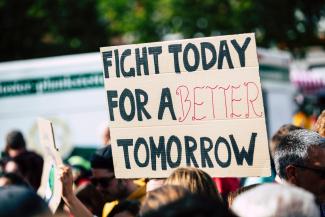 The Right Is Wrong: Fighting for Equality in Florida
In the long run of history, authoritarians, censors, and inquisitors have always lost to the resistance, resolve, and resiliency of the people. Another painful chapter of that history is playing itself out now in Florida and across the U.S.
Equality, diversity, and inclusion have proven to be winning strategies for our country's education, healthcare, tourism, business, and economy.  
However, Florida's cultural war flamethrowers Gov. Desantis and Republican lawmakers haven't learned this lesson. They're brazenly weaponizing the state government to relentlessly attack individuals, families, and businesses over women, minorities, and LGBTQ+ rights. 
Florida's Republicans are not representing the majority of its citizens on the right to abortion, gun control reform,  LGBTQ+ discrimination, and many other issues. Nor are they acting in the best interest of businesses and higher education.
It is stigmatizing. It's insulting. It's traumatic. It's harmful. 
And the "right" has it all wrong. 
Morality and ethics have left the building
As an investment advisor and an accredited investment fiduciary, I have a legal responsibility to act in the best interests of my clients with no conflicts of interests. I must follow a fiduciary process that includes duties of utmost care, integrity, honesty, full disclosure, loyalty, and good faith.
The 2022 Florida Statutes Code of Ethics has similar rules for state officials:
Section 112.311 (6): … public officers and employees, state and local, are agents of the people and hold their positions for the benefit of the public. They are bound to uphold the Constitution of the United States and the State Constitution and to perform efficiently and faithfully their duties under the laws of the federal, state, and local governments. Such officers and employees are bound to observe, in their official acts, the highest standards of ethics consistent with this code and the advisory opinions rendered with respect hereto regardless of personal considerations, recognizing that promoting the public interest and maintaining the respect of the people in their government must be of foremost concern.
Does it sound to you like Gov. Desantis and the Republican legislature supermajority are observing "the highest standards of ethics" and "maintaining the respect of the people"?
I think not. Hubris is running amok.
Will it get worse before it gets better?
Riding it out is not an option
I compare Florida's current political climate to advice I always give my clients: the stock market will always have its ups and downs, so position your assets to protect yourself during the downturns.
I never tell clients to "ride out" a poor market, especially if they are leveraging their assets for income or retired or close to retirement. 
This is the state of our state now. We are at the bottom of a historic downturn. "Riding it out" will only cause more downturns for the worse. 
I can honestly say without hyperbole that what is happening in Florida today feels like 1930s Germany to me. One restrictive law leads to another, and it gets worse and worse and worse. It's gradual, and then it becomes normal, and people accept it. I have heard from many clients and friends who feel powerless, defeated, fearful, and depressed.
Now, more than ever, is the time for Florida's diverse coalition of communities and constituencies to lift each other up, leverage resources, and focus all of the outrage into action to shift Florida back toward the winning side of history. 
Stand up for younger people who have not developed the maturity or the emotional resources to deal with this bullying. 
Speak up for the underrepresented and marginalized to leverage any privilege you have to amplify their voice,
Show up for the oldest and weakest amongst us who feel too vulnerable to put themselves out there.
Fleeing Florida for self-preservation
More personally, I am a gay man with over three decades of financial planning experience addressing the unique legal, financial and personal circumstances of the LGBTQ community. 
I have unfortunately had many LGBTQ+ client experiences that speak to fear and stigmatization—especially amongst the aging generation who pioneered today's rights movements. There are many differences in how members of the LGBTQ+ community are treated in society and how that manifests itself financially. 
From not understanding how same-sex marriage rights have affected pension payouts and Social Security divorce and spouse benefits to dealing with money-grabbing toxic relatives, there are deep and sensitive issues that affect the financial security of people of marginalized identities.
When you pile Florida's current political reality on top of these existing issues, many are close to reaching a breaking point.
A disturbing trend I see with my LGBTQ+ clients is that they have, or are in the process of, moving out of the country. Within the past couple of months, three couples have left the U.S. to live in Europe. They feel that living here is so unsafe that they don't want to be here. It's getting that bad. 
How much longer until corporations and educational institutions follow suit?
Restoring sanity to De-Insanity's assault on freedom
The good news is that our democracy still works. 
Challenges to unconstitutional and unfair laws are now in the courts to overcome Florida's attempts to limit abortion rights, destroy DEI through the Stop WOKE Act, and take away trans kids and parents rights. There will be many more lawsuits to come. 
It's our job to keep the pressure on and continue pushing for positive movement up and out of this abyss. Speaking up, standing firm, voting, and being there for each other can go a long way toward shifting Florida back to the right side of history.
In the words of LGBTQ+ rights activist Harvey Milk, "It takes no compromise to give people their rights… it takes no money to respect the individual. It takes no political deal to give people freedom. It takes no survey to remove repression." 
Yes, it's really that simple. Let freedom ring again—louder and prouder than ever—in Florida and throughout the U.S.
_ _ _
RELATED RESOURCES
Video: We Will Not Be Silent: Fighting for LGBTQ+ Equality in Florida
Video: David Treece on Florida's "Don't Say Gay" Bill
Blog: The Benefits of Work With an LGBTQ+ Advisor
Website: David Treece: LGBTQ+ Advocacy & Education
La Vida Pride eCommunity | Connections | Courses | Resources
Sponsored by Treece Financial Group
_ _ _
The views and opinions are those of David Treece and should not be  construed as investment advice. The views and opinions are NOT those of Cetera Advisors LLC.
_ _ _
Photo by Markus Spiske