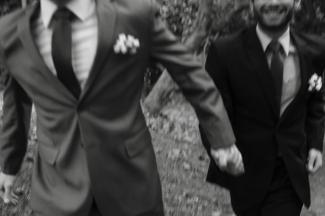 For Better or Worse in Post-Roe US: Act Now to Protect Your Marriage
Unfortunately, due to the Supreme Court's recent Dobbs decision overturning Roe v. Wade, the LGBTQ+ community has learned a sad new fact of life.
Our planning for the future must now take into consideration the possibility of losing our hard-fought current rights.
With Dobbs, the majority has torn down the entire doctrine protecting marriage equality, gay rights, and contraception, among other personal liberties.  Because, as the liberal justices wrote in dissent, these rights are "all part of the same constitutional fabric." 
I knew that marriage equality would come under the gun next. I was outspoken about it before the decision dropped.  I think many people are in denial about what can happen. They say things like, "Don't worry.  It won't happen."  I say, "You don't know that.  Nobody does." 
Until there is something more concrete, it's best to take action now to protect the legal rights and financial benefits accorded by your marriage.
Here are just a few of the key areas you and your spouse need to protect your rights—whether marriage equality is challenged or not:
Marriage and Social Security. A long-time same-sex couple might never have considered spousal benefits, survivor benefits, and might not even be eligible for divorced spouse benefits because of the 10 year rule. As I write this, marriage equality is only about 12 years old.
Marriage and children. There is something called the "marital presumption," where the law assumes that both parents are the true parents of a child. There is no DNA test for the father for example.  There have been legal efforts to say that the "marital presumption" does not apply to same-sex couples and hostile state governments have tried to deny one of the same-sex spouses their parenthood rights.
 
Marriage and pensions. The relative newness of marriage equality led long-term couples to make choices based on the expectation of always being legally single. For example, a spouse might have taken a pension based on a single life payout as opposed to a joint life payout, because there was no opportunity to name a same-sex partner as a beneficiary.
Marriage and estate planning.  Before marriage equality, it was indispensably important for same-sex couples to have the proper titling of accounts and real estate up to date and to have correct beneficiary designations. The essential estate planning documents such as a power of attorney, advanced health care directives such as a living will (the pull the plug document), of last will and testament, perhaps a revocable living trust or other trust were critically important. It is still important!
 
Marriage and inheritances. There is a lost financial legacy for many gay people in same-sex relationships where benefits could have been claimed by one partner such as for a pension, social security, spousal IRAs, and even lost inheritances in situations where estate planning documents or proper titling of assets or naming of beneficiaries was not done.  
Act today to ensure the heartfelt vows you made to your spouse to care for each other for better or worse remain true —no matter what the US federal or state governments may say.  
If you'd like advice or need referrals to any professionals that can help you secure your future, please reach out to me. I am here to help.
 _ _ _
 
Community Discussions: For Better or Worse in Post-Roe U.S.: A Vow to Protect LGBTQ+ Equality
Come together in community to hear from panelists who will offer legal, financial, mental health, and spiritual insights into how you can protect yourself, build resiliency and find support to be prepared for what may come next. Presented by Our Fund Foundation. Support provided by Lambda Legal.
RSVP with Obed Caballero at ocaballero@our-fund.org
Broward: Tuesday, August 16, 2022
6:00 - 7:30 PM
Our Fund Foundation
1201 NE 26 ST, SUITE 108
Wilton Manors, FL 33305
Panelists:
Gregory R. Nevins, Senior Counsel, Lambda Legal
Elizabeth F. Schwartz, Esq., Principal, Elizabeth F. Schwartz P.A.
David Treece, Treece Financial Group
Rev. Amy Carol Webb, River of Grass Unitarian Universalist Congregation
Moderator: Nik Harris, Attorney, Director of Strategic Outreach & Engagement, HRC
Miami-Dade: Wednesday, August 17, 2022
7:00 - 8:30 PM
Latinos Salud - North Miami
640 Northeast 124th Street
North Miami, FL 33161
Panelists:
Gregory R. Nevins, Senior Counsel, Lambda Legal
Elizabeth F. Schwartz, Esq., Principal, Elizabeth F. Schwartz P.A.
David Treece, Treece Financial Group
Rev. Amy Carol Webb, River of Grass Unitarian Universalist Congregation
Eugenio Duarte PhD, Psychoanalyst
Moderator:  Nik Harris, Attorney, Director of Strategic Outreach & Engagement, HRC 
We require that all guests be masked or up to date with COVID-19 vaccines. COVID-19 Guidelines
_ _ _
Related Resources:
Photo by Maico Pereira on Unsplash